Audio Described Movies: Personal Favorites PART II
Welcome back to part two of my film recommendations that can be found in our audio described DVD collection! As I mentioned last time, I want to note some streaming services that offer audio description. Many of the most popular services, such as Netflix, Hulu, Prime, Disney Plus, and HBO Max have audio description, although not necessarily for all titles found on the service. The AD option is commonly found in the pause menu, located where the subtitle and language options are found. Keep in mind, while most streaming services have a monthly fee, patrons of LAMP can borrow films for free! Now, here are some more favorites we can add to your request list:
If Beale Street Could Talk (DVD 01806)
Description: A timeless love story set in early 1970s Harlem involving newly engaged nineteen-year-old Tish and her fiancé Fonny who have a beautiful future ahead. But their plans are derailed when Fonny is arrested for a crime he did not commit. Now the pair and their families must fight for justice in the name of love and the promise of the American dream. Rated R.
My Take: This is a bittersweet and heartbreaking romance from Barry Jenkins, director of the Best Picture Winner "Moonlight." Based on a novel of the same name (DB 08709).
Knives Out (DVD 01992)
Description: A tribute to mystery mastermind Agatha Christie and a fun, modern-day murder mystery where everyone is a suspect. When renowned crime novelist Harlan Thrombey is found dead at his estate just after his 85th birthday, the inquisitive and debonair Detective Benoit Blanc is mysteriously enlisted to investigate. From Harlan's dysfunctional family to his devoted staff, Blanc sifts through a web of red herrings and self-serving lies to uncover the truth behind Harlan's untimely death. Rated PG-13.
My Take: This is an energetic and comedic murder mystery starring Daniel Craig and Ana de Armas. Don't let the somewhat lighthearted tone fool you; this is still an edge-of-your-seat film filled with twists and deception!
Phantom Thread (DVD 01656)
Description: The story of a renowned dressmaker whose fastidious life is disrupted by a young, strong-willed woman in 1950s London. Rated R.
My Take: This is a bit of an odd historical romance involving fashion, featuring a beautiful score. It is Daniel Day Lewis's last acting performance, as he retired after this film.
Thoroughbreds (DVD 01746)
Description: Two upper-class teenage girls in suburban Connecticut rekindle their unlikely friendship after years of growing apart. Together, they hatch a plan to solve both of their problems, no matter the cost. Rated R.
My Take: This is a slow moving yet engaging and occasionally tense drama, with some darkly comedic elements. Starring Anya Taylor-Joy, Olivia Cooke, and the late Anton Yelchin.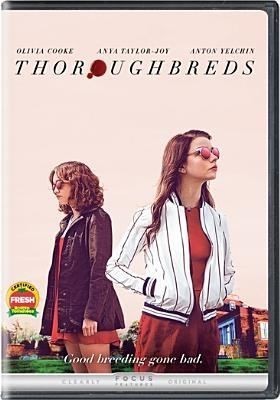 The Girl with the Dragon Tattoo (DVD 01327)
Description: Hoping to distance himself from the fallout of a libel conviction, journalist Mikael Blomkvist retreats to a remote island in Sweden's far north where the unsolved murder of a young girl still haunts her industrialist uncle forty years later. Ensconced in a cottage on the island where the killer may still roam, Blomkvist's investigation draws him into the secrets and lies of the rich and powerful, and throws him together with one unlikely ally: tattooed, punk hacker Lisbeth Salander.
My Take: The most underrated of films directed by David Fincher, this is a disturbing mystery film based on the Swedish novel (DB 67759) featuring an unconventional detective.
I hope you try out one of these films, and good luck with your own personal film festival!