Halloween Pairings For All Your Scarings!
Happy October, folks! There's a chill in the air… and LAMP has thrills to spare. You may be familiar with our digital audiobook services, but did you know that LAMP also circulates Audio Described DVDs? We lend movies statewide that come with audio-description that explains the action going on during the film so people who cannot experience movies visually can still enjoy and understand the story. Each DVD case is overlaid in braille that contains relevant information such as title and director.
Here are five spooky recommendations freshly exhumed from the dark depths of our DVD collection and listed alongside their audiobook source material. Does the movie version really make your skin crawl, or are you more of a book-is-always-better traditionalist? Check out these frightening pairs, and if you so dare – see how they compare!
SCARY STORIES TO TELL IN THE DARK (DVD 01905)
On Halloween 1968, reclusive Stella and her two friends meet a mysterious drifter, Ramón, and uncover a sinister notebook of stories. Rated PG 13.
SCARY STORIES TO TELL IN THE DARK by Alvin C. Schwartz (DB 19713)
Ghoulish stories of ghosts and witches, startling "jump" stories, macabre songs, frightening legends, and modern-day horror stories. For grades 5-8. Followed by "More Scary Stories to Tell in the Dark" (DB 22330).
PRIDE AND PREJUDICE AND ZOMBIES (DVD 01506)
In this action/horror/romance reimaging of the classic Jane Austen novel, five sisters cope with the pressure to marry, while dealing with an increasingly violent zombie outbreak. Starring Lily James as Elizabeth and Sam Riley as Mr. Darcy. Rated PG-13.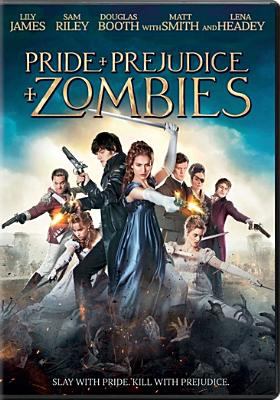 PRIDE AND PREJUDICE AND ZOMBIES: THE CLASSIC REGENCY ROMANCE – NOW WITH ULTRAVIOLENT ZOMBIE MAYHEM by Seth Grahame-Smith (DB 69090)
Elizabeth captures Mr. Darcy's attention as she decapitates a throng of the undead during a country ball. Smitten with her warrior abilities, Mr. Darcy verbally spars with Elizabeth and fights his growing attraction and admiration for her as they attempt to eliminate the rotting corpses infesting England. Violence. Bestseller. 2009.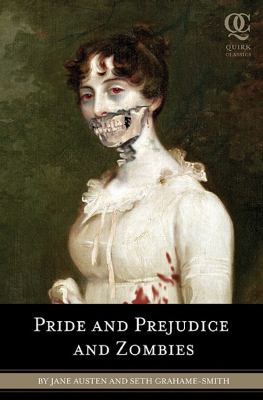 DOCTOR SLEEP (DVD 02011)
Struggling with alcoholism, Dan Torrance remains traumatized by the sinister events that occurred at the Overlook Hotel when he was a child. His hope for a peaceful existence soon becomes shattered when he meets Abra, a teen who shares his extrasensory gift of the 'shine'. Together, they form an unlikely alliance to battle the true knot, a cult whose members try to feed off the shine of innocents to become immortal. Rated R.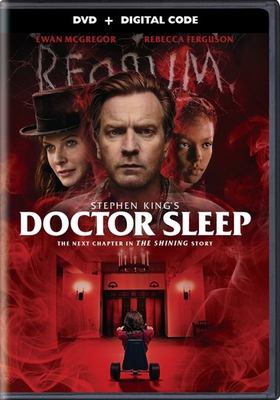 DOCTOR SLEEP by Stephen King (DB 77471)
Years after the horrifying events at the Overlook Hotel described in "The Shining" (DB 51373), recovering alcoholic Danny Torrance has learned to control his supernatural abilities. He befriends a twelve-year-old whose own psychic powers put her at risk. Violence, strong language, and explicit descriptions of sex. Bestseller. 2013.
THE INVISIBLE MAN (DVD 02014)
When Cecilia's abusive ex takes his own life and leaves her his fortune, she suspects his death was a hoax. As a series of coincidences turn lethal, Cecilia works to prove that she is being hunted by someone nobody can see. Inspired by H. G. Wells' novel of the same name. Rated R.
THE INVISIBLE MAN by H.G. Wells (DB 47064)
Classic story about the scientist Griffin, who discovers a process that makes him invisible. At first he is euphoric about the wild and wonderful things his invisibility allows him to do, but he soon wishes he could change back. First published in 1897. 1996.
WORLD WAR Z (DVD 01061)
Former United Nations investigator Gerry Lane is in a race against time to save both his family and the world from a pandemic that is toppling governments and threatening to destroy humanity itself. Rated PG-13.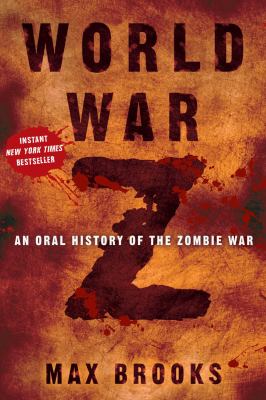 WORLD WAR Z: AN ORAL HISTORY OF THE ZOMBIE WAR by Max Brooks (DB 65111)
Author of "The Zombie Survival Guide" (RC 64675) records firsthand interviews with survivors of humanity's devastating clash with the undead. Personal accounts from all over the world reveal the scope of the conflict, from the first zombie outbreak to the aftermath of war. Strong language and some violence. 2006.