The Recording Studio at LAMP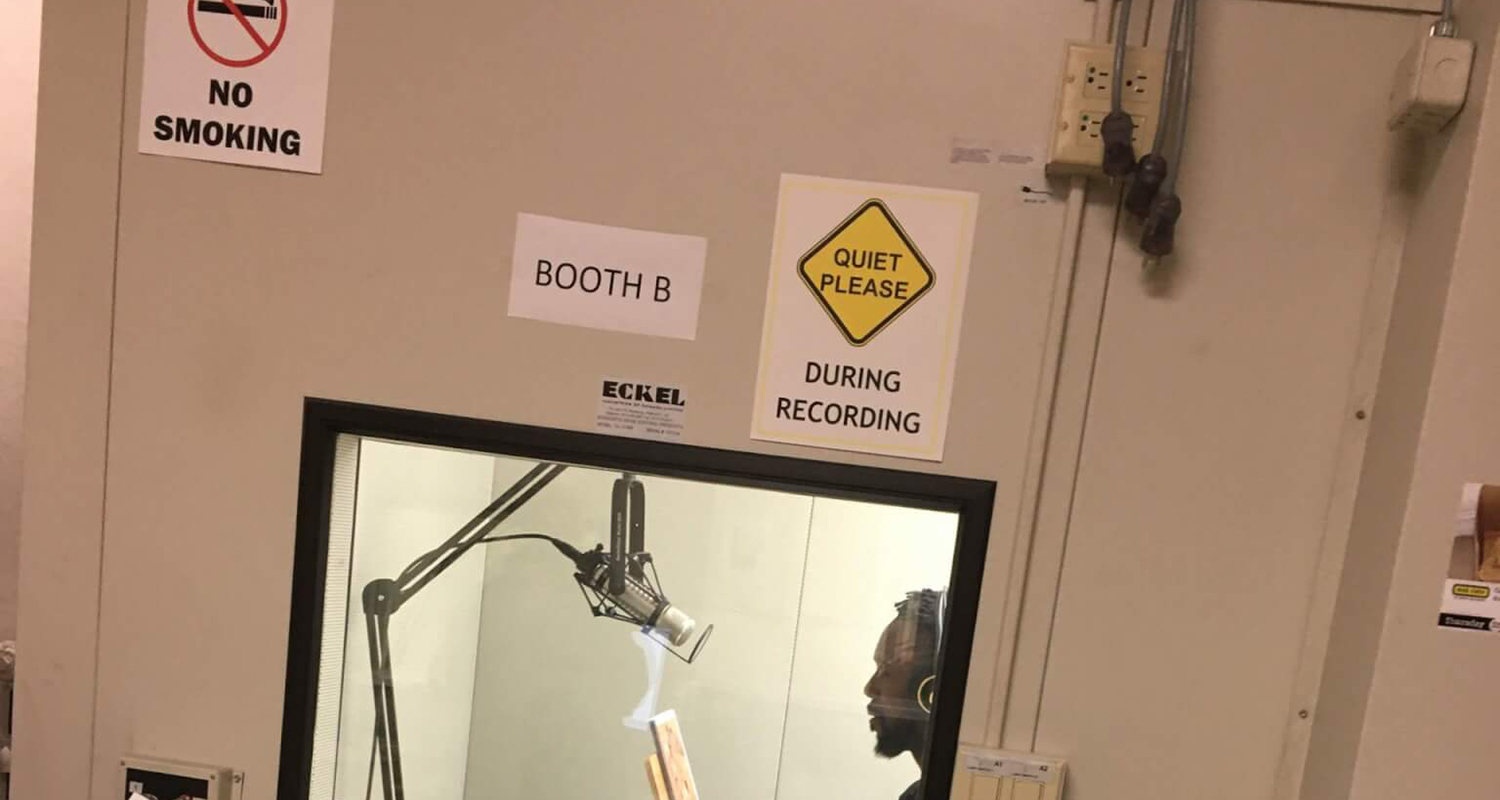 Something that many people may not know is that here at LAMP – Carnegie Library of Pittsburgh we have a fully equipped and functioning volunteer-run recording studio. This little-known secret is a true gem, and contributes to the noble mission of the National Library Service for the Blind and Print Disabled.
Just for a little background, The National Library Service for the Blind and Print Disabled (or NLS, as we like to call it) has been providing accessible reading materials to those who are blind, low vision, or otherwise print disabled (anyone who has any condition that would prevent them from enjoying reading) since 1931 (and actually before that, but not as consistently). Accessible reading materials can mean braille, large print, or audiobooks. Most of the audiobooks used by our service have been recorded in Washington DC until very recently, when the NLS started to acquire commercial recordings of audiobooks. These books include classics, popular titles, best-sellers, and much more. What they record does not, however, include titles of local or regional interest. For that, it is up to the states to record: enter our recording studio.
We can make any book that has a Pennsylvania connection accessible. The author can be from or have lived in PA, the book can be explicitly about PA, or the book can be set in PA. Even if just part of a book is set in PA, we can record that title. We have recorded books on PA sports, PA history, civil war history, poetry, essays, memoirs, and cookbooks by chefs from PA. When we record one of these books, it becomes available to people who receive our service immediately for download through the BARD Mobile App, or we can send it to them on an NLS cartridge through the mail. These titles are not only available to Pennsylvania, but throughout the country through the National Library Service, and available internationally because of the Marrakesh Treaty.
Making books accessible for people with disabilities, not just for Pennsylvanians, but for a national and international audience, is impressive. But even more impressive is that all of this work is volunteer-driven. In 2019 volunteers in the studio were responsible for producing over 60 books. These were all kinds of books: titles for children and adults, fiction and non, and everything in between. These volunteers narrated the books, and that is probably the most visible role, but much more work goes into the production of a book.
While the narrator narrates, there is someone we call a monitor who sits outside of the booth and, well, monitors the recording. They listen for mistakes the narrator may make and correct them while they are in the booth. This saves time later in retakes. After a book is completely narrated, one of our volunteer editors edits the work. The editors take out mistakes, coughs, page turn sounds, and marks the files where retakes are needed. After the editor is done, the narrator comes back for retakes, which the editor will then re-insert into the recording. After all of this the book is produced, which means putting the title into the specified format for our player and app, as well as adding navigation points for people to be able to skip chapters, sections, etc. When production is complete, we send the book out to other volunteers to do quality assurance. Even in this, I'm missing a lot of the behind-the-scenes work such as getting copies made, looking up pronunciations of difficult to pronounce words, and creating audio descriptions of photos when appropriate. This is a lot of work, and our volunteers do it very well and take a lot of pride in the work they do!
In 2019 we released 62 books. We had 215 volunteers that contributed around 12,000 hours to LAMP, most of whom were working in our recording studio. Without these volunteers, the books we produce would not be accessible to people with disabilities. We are very proud of our volunteers, our recording studio, and the work they do to make reading accessible for everyone. Without their hard work and dedication, the books we record would not be accessible to the print disabled members of our community. Fort his we want to extend our heartfelt gratitude.