At LAMP, we work to ensure all may read for life. We make this possible by providing books in braille, audio, and large print as well as Tactile and Braille Early Literacy Kits.  Additionally, we provide access to digital content through BARD (Braille and Audio Reading Download). We support our patrons with equipment such as audio players, breath switches, headphones and WiFi hotspots. As the Youth Services Librarian, my goal is to connect all eligible Pennsylvania youth between the ages of 0-21 to our service.      
What can patrons expect from Youth Services at LAMP?  First, having a youth services program reminds everyone that our collection includes titles for youth.  Whether it's a picture book suited for babies, a chapter book for school age youth, or a young adult novel for teens and new adults, our collection is full of age-appropriate books young people will love. We also can send children's titles to our older patrons! Adults can listen with grandkids or simply revisit an old favorite from their childhood. For inspiration, be sure to check the Staff Picks page regularly on our website to discover new Children's and Young Adult titles. Staff Picks change monthly and often highlight our newest titles along with staff favorites, seasonal titles, and award-winning stories.   
Secondly, Youth Services will offer programs and activities at the library and virtually.  We can't wait to have programs and tours for kids of all ages at the library!  And through virtual programming, we will be able to bring stories, songs, and games to the classrooms and homes of young patrons throughout Pennsylvania.  We are already beginning to plan for the library's Summer Reading Program!  Be sure to check out the LAMP events page for a full list of programs and happenings. Please help me spread the word about all of the wonderful services LAMP has to offer!


A key component of LAMP's Youth Services collection are the Tactile and Braille Early  Literacy Kits. Our kits have been updated and enhanced to ensure they are fun, safe, effective, and interactive.  Kits are divided into seven themes: Beginning Braille, Farm, Bugs, Pets, Transportation, Ocean Life, and Shapes. Each kit includes tactile or sound books, sensory materials (play doh, water beads, fidgets, oh my!), models, and toys which can enhance a young person's reading experience. The kits also include a resource folder full of specific activities, songs, and fingerplays that provide structure to those looking for suggestions on using the kits. Kits may be requested through our catalog by typing "Literacy Kit" in the title field or by giving us a call at 800-242-0586. You can learn more about all of LAMP's services to Pennsylvanians with print disabilities at MyLAMP.org.
Since starting the position in July, I have met with teachers, families, intermediate unit staff, principals, fellow librarians and young patrons about LAMP services. In the process, I have been reminded of the common phrase "It takes a village." The support of caring and devoted adults is important to a child's development. I am excited to be a part of this support network by finding ways to foster a lifelong love of learning in young Pennsylvanians by removing barriers to reading.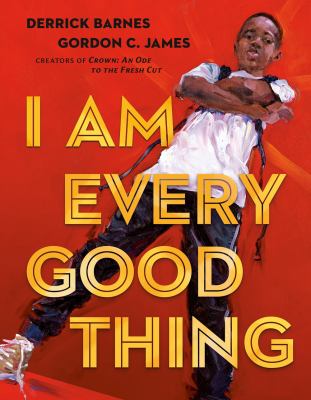 There are many reasons why I love working with youth, but what has stood out to me the most is their innate ability to see the good in everything and everyone. One of my favorite picture books is Derrick Barnes's I Am Every Good Thing (DB 100558).  The following quote sits at my desk and is a daily reminder of my goal to be a source of positivity and support for our young patrons: 
"I am every good thing that makes the world go round.  You know—like gravity, or the glow of moonbeams over a field of brand-new snow. I am good to the core, like the center of a cinnamon roll.  Yeah, that good." 
Carolyn is the Youth Services Librarian at LAMP.